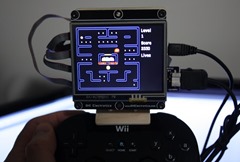 Valentin Ivanov (aka Architect on the TinyCLR Forums) just posted one of the more awesome projects I've seen for .NET Gadgeteer. He's built a mini game console using a repurposed Wii controller, plugged into his custom Chucky module, to control a ported version Pac-Man (he's also working on a port of Space Invaders). This is just the kind of project that I think makes Gadgeteer so awesome.
Go read his blog post for all the details, including his hand-cut and drilled mounting board that connects the FEZ Spider mainboard and T35 LCD to the controller.
Oh, and if you'd like to see this awesome project in action, come to MADExpo next week. Valentin's is just one of the many cool projects that will be on display in our demo room. I'll also be bringing some Gadgeteer coolness, as will Pete Brown, and Sean Westcott (and Sean's project involves electroluminescent wire…awesome!). And I hear the peeps from 757 Labs will be back as well. Should be great fun!
Register now!