It's taken me a bit longer to get to this post than I'd anticipated, but I wanted to share some info on the Mid-Atlantic Developer Expo, which wrapped it's second iteration at the end of June. As with the first MADExpo in 2011, it was a fun event, combining software from a wide variety of platforms (from Windows 8 to iOS, from Perl to Ruby), with a healthy dose of hardware hacking and demos, along with a program for kids.
This year we added a third day, spread the MADKidz mini-conference over a couple of days, and welcomed nearly 250 folks to the Hampton Roads Convention Center for 3 days of learning, networking, and inspiration.
We had a great attendee party at a local venue called Cinebistro, which featured bowling, pool, great munchies, and more. And a pleasant surprise was that they did not have blasting music that made it impossible to talk (something which is unfortunately all too common for similar venues), so there was much great conversation, in addition to all the bowling and other fun.
I also had the pleasure of meeting a couple of folks from my travels in .NET Gadgeteer, including Gus Issa, founder and President of GHI Electronics (GHI makes many of the Gadgeteer boards and modules I use…full disclosure: Gus occasionally provides boards and/or modules to me for testing or demo projects at no cost…though my wife would tell you I've also spent plenty of my own money on GHI products as well). Gus was a small business sponsor at the conference, and we had a great time talking about some ideas for how to make our demo area even more awesome for 2013. I also finally got to meet Valentin Ivanov (aka Architect) who is arguably THE most knowledgeable person I know about .NET Gadgeteer and .NET Micro Framework stuff. There's a reason he's called a Legend in the TinyCLR community.
Thank Yous
The first important task is thanking all the folks who made it possible:
Steve Bodnar – Steve led our team as the President of MADExpo, and did so with his usual professionalism and diligence. Steve provides a great backbone for the organization, and his leadership is greatly appreciated.
Steve Presley – The other Steve in our organization (having 2 Steves makes our conference calls pretty interesting), Steve Presley once again wore many hats, from web guru, to helping compile the schedule, to organizing content for integration with EventBoard, to late night badge printing, and probably some areas I don't even know about. Steve rocks.
Kevin Griffin – Kevin led the speaker selection and scheduling, and still managed to make it to the conference despite the impending arrival of a new baby. No stress there.
Pete Brown – For the second year, Pete led the planning and recruiting for our hardware demo room. Pete and I had fun with it this year, with both of us having a table full of gear at one end of the room, and each of us got to have our own huge LCD monitor for showing off code and such (courtesy of Steve Bodnar's company, Geeks and Gurus). Pete is a geek's geek, and I can't imagine anyone else running the demo show at MADExpo.
Justin Etheredge – Justin stepped it up a notch this year, taking on a major role in recruiting and organizing sponsors for this year's conference. Sponsors are absolutely key to any event of this size, so thanks to Justin for his great work in this area.
Perry Neal – Perry was another key player in identifying and getting commitments from sponsors. Perry did lots of legwork to ensure that we could afford to feed all of our attendees, among other things.
Joel Cochran, Jim Christopher, and Sean and Jean Westcott – Joel and Jim did a great job teaching day 1 of MADKidz, providing an introduction to programming via Small Basic. And Sean and Jean brought their Introduction to Electronics 101 session to MADKidz, teaching about circuits and soldering. All of them were a huge help in making MADKidz a success this year.
My fellow Microsofties, Dani Diaz and David Isbitski – Dani and Dave came down to speak for the second year in a row. Dave was a big help with the Windows 8 camp day that was part of my responsibilities at the event. Dave gave two of the 5 talks, while Dani picked up one, plus another session he did on cloud development for mobile devices.
Kristy Moon – After volunteering on-site last year, this year Kristy used her awesome web design skills to give our website a makeover. What was amazing was that she didn't throw everything out and start from scratch. Instead, she made many changes to the existing site, some obvious (including some great logos and imagery for MADKidz and the site as a whole) and some subtle, to bring a wonderful level of polish and cohesiveness to the site.
I'd also be remiss if I didn't again thank my wife Jennifer, who helped with MADKidz, FedExKinkos runs, and more. Thanks also to Kevin Jones, who helped out onsite with bag stuffing and check-in (and thanks to all the other folks who helped with bag stuffing as well). Several speakers also helpfully volunteered to help with setup tasks on Wednesday morning, as well as helping us break things down on Friday. You all rock!
Lots of other folks from the local developer community joined us on planning calls, offered ideas, and helped in a variety of ways. Thanks to everyone who contributed.
Last, but not least, thanks again to all our Sponsors, without whom there'd be no MADExpo. Please visit their sites, and thank them for sponsoring MADExpo.
Links
Here are some links to blog posts about this year's conference:
Photos
Photos from MADExpo 2012: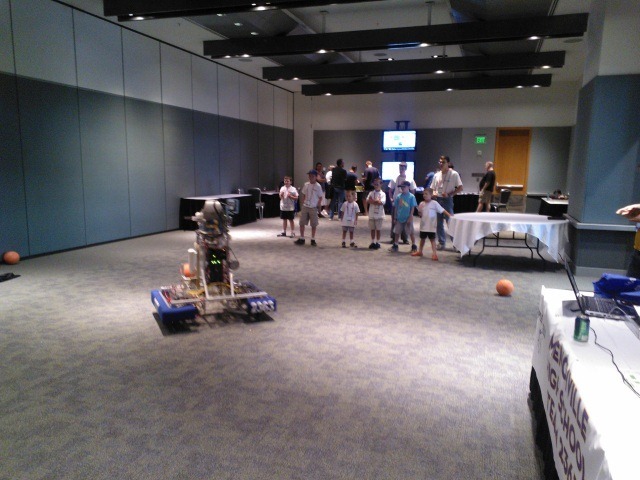 The robot from the Menchville FIRST Robotics team plays catch with some of the kids at MADExpo
[photo no longer online]
Attendee party at Cinebistro. Bowling, pool, munchies, and great family-friendly fun.
[photo no longer online]
A couple of the MADKidz learning about electronics (with a gratuitous plug for Telerik, who was one of the sponsors for MADKidz and brought all kinds of SWAG to boot). Hard to tell from the back, but I think the boy on the left is one of Steve Bodnar's kids, while on the right I'm fairly sure is my oldest son, Joseph.
More photos can be found at:
If you have any photos from the event you'd like to share, please drop me a note.
Tweets
As was the case last year, we saw some fantastic twitter feedback on the conference. Here's a sampling:
I'm definitely looking forward to MADExpo 2013, and will be sure to post when we've finalized dates for next year!